© All CONTENT & PHOTOGRAPHS G.J. VERSPUI 2016 ©
Unless stated otherwise.
 For viewing the photos in a bigger size, just click on them
Summer holidays, what can we do, where can we go, we don't have a big car and we have a wedding close to Munich. 
So what is the best option..
We choose to do it all:
* Go to the wedding of Laura & Bobby in Germany.
* Visit my friend Wilbert and his family in Austria.
* Visit Teja and find that damn 'Italian clade' Vipera berus in Slovenia.
* Search for the 2 missing special subspecies of Alpine Salamander in Italy.
* Search for concolor Asp Vipers in the French Alps.
* Search for melanistic Asp Vipers in Switzerland.
The day before we left I had a party with my colleges from work, we went waterskiing and had a nice bbq afterwards, it was so much fun that most of us had some souvenirs from it...one had a tore muscle from the waterskiing adventure, others had a tiny hangover and for me, I had some bruises because one of the people who worked there bumped in to me twice..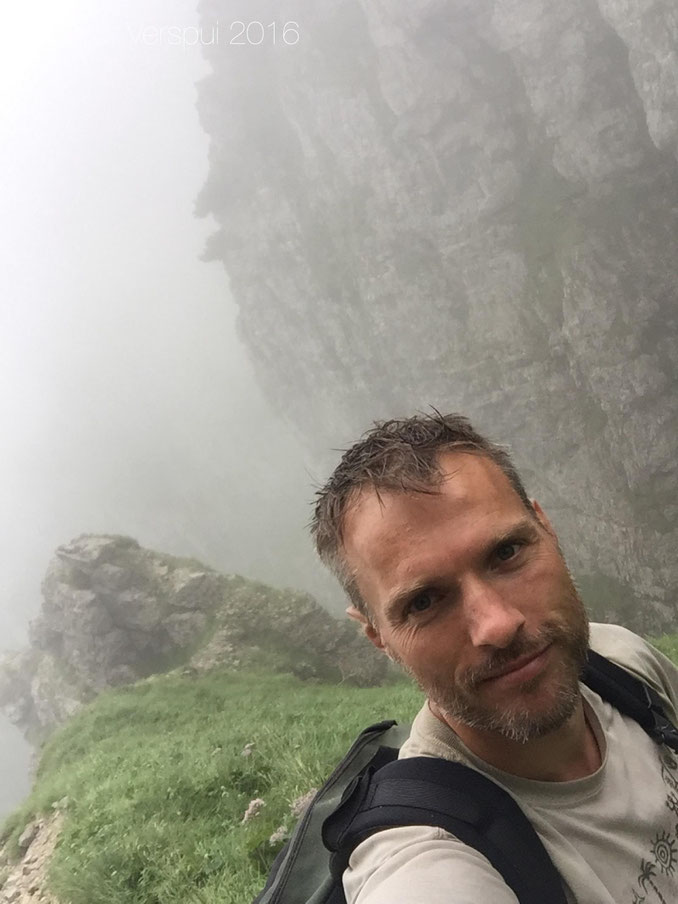 Germany & Austria
We rented a 'big' car (for European standards) and drove on the first day to a campsite south east of Munich, this was a very nice campsite with a little lake where we could swim, catch Alpine Newts & Grass Snakes and it was only 10 km from the place where Laura & Bobby had their wedding party. We stayed 4 days in that area and during the days we visited some nice places in the area.
On the 26th it was about time that Laura & Bobby should get married, they were living in sin for way too long already.
They had their marriage at a great location in the German Alps, but there were no real roads going to the Sillberghaus, so we all walked up, all except a couple of people who were to tired or lazy to do the 45 minutes climb. I think they were all friends of Laura...
When we arrived there the weather was great, so we jumped in the pool, not naked this time and I think that it is really strange at Bobby's wedding.
After the beautiful ceremony (tissue please) we started with the beer and Laura started with one of her games, she told me that there was someone at the wedding who really wanted to see me go for a swim, which I already did, at first she didn't want to say who it was, but after 5 minutes she told everything, so if you are that person...Laura is bad at keeping secrets....or maybe it was Bobby.
Around dinner time I brought my family back to the campsite and went back to the wedding again, I was alone now, so I tried to run up the mountain, almost dead I arrived in 16 minutes and the party continued till I don't know what time.
One of the funny things at the wedding was the description of the guests, I really loved mine and believe it or not, there are almost no lies in it.
Somewhere in the night I said goodbye to the newlyweds and went down the mountain together with Frank, this time we were able to step into a little van so that was nice!
At the parking I said goodbye to Frank and went back to the campsite, Frank jumped in his famous herping mobile, untied one of his girlfriends who was still waiting inside and started the next party.
The next day we left Bayern and drove to Karinthia, Austria. My good friend Wilbert was there with his family and we dropped by and spend 2 nights there. During the day we had some beers, did some swimming, had some more beers, went shopping and in the evening we went out for dinner with 10. During dinner we enjoyed the music of a lovely band, Im glad nobody died that night..and like everywhere the waitresses were very friendly.
After 2 days we said goodbye again and moved towards Slovenia, Thanks Wilbert & Natasja, we had a great time!
Slovenia & Italy
From Austria we drove to Postojna, Slovenia and here we stayed on a nice camp site close to Teja's home, Teja dropped by the same afternoon and after meeting the rest of my family we started with some nice big beers and herping. The weather was a lot better than last time I was here, so we found a Nose-horned Viper pretty easy, so now look for that damn Vipera berus again, when we arrived at the spot it was really hot there, so unfortunately we didn't find any.
The next morning we tried an other spot that we already visited in June and after a snake escaping which I think was an Aesculapian Snake, I walked by some steep rocky areas and here a Black Adder made its way into the nearest hole, but I was just fast enough to grab it.
I was really happy with this 'Italian clade' Vipera berus and it was a stunning one.
Photographing the Adder was not easy, very bright sun and a black animal does not make it easier.
Very happy we went back and I spend the rest of the afternoon in the swimming pool on the camp site, In the evening we were invited by Teja's family to come and have a bbq with them. That was a lot of fun, beer meat and wine! In between beers I gave my kids a small lesson about one of Teja's horses, which they really liked.....(wat een groot piemelpaard...)
At the end of the evening we said thank you to Teja and her family, her mother gave us a bottle of wine from that area, which was really good. Now it was time to say goodbye again, thank you Teja and your family for everything!
The next day we headed for Italy where I wanted to find some rare subspecies of the Alpine Salamander.
After almost dying 6 times because of the driving quality of some Italians we arrived at the first place, it was raining so Elin and me pretended to like this very good amphibian weather and started the hike.
Half an hour later we arrived at the spot and started to search, I found the first 'golden' Alpine Salamander, Elin the second which was the biggest and the third one was mine again, they were all active running around in the rain. When Elin and I returned to the car we needed some dry clothes, but where was Cynthia with my 2 other kids.... She was inside the bar... Where else..
With the first target found pretty easy we decided that hanging around was not an option, we jumped in the car again and drove to Mount Pasubio for the next subspecies of Alpine salamander: Salamandra atra pasubiensis.
There were no campsites in this area so we found us a hotel in Sant Antonio del Pasubio, the next morning we had breakfast and after that I climbed up the mountain to look for the salamander, the climb is a very nice one, very steep and the scenery is breathtaking, some will say that the climb itself is breathtaking also, but that was fine by me, I ran up most of it, so I had more time up there. 
Finding the salamander was not easy, I searched for a long time before I saw one walking just in front of me on a very steep slope, I took some quick in situ shots and stepped around it, slipped, fell down the slope and my hand was bleeding a bit harder than I wanted too.
I grabbed a tissue for myself, photographed the salamander and ran down the mountain again (and yes I know there are parts where you can not run, I walked there...)
Back at the hotel around 12:00 so we ate something first before we headed towards our next stay. We wanted to spend some nights at one of Italy's famous lakes, Lake Como was more or less in the direction we were heading so it seemed like a perfect plan to drive to Lecco and take a campsite south of it, after all this hardcore herping we wanted to have some sun, fun, wine and a good view...
My heart was already beating faster when I thought of all the nice 'birds' flying by in tiny outfits in this very touristic area...
After some hours of driving we came to the exit that went towards Lecco, but wtf, the sky was almost black in the whole area north of us, thunder, lightning, something evil must have been living there...so we had a short discussion about it and decided to move on.
We drove all the way to the French Alps. Late at night we arrived on a campsite in Bourg Saint Maurice, a nice place in the French Alps, we couldn't find anybody to register so we just put up the tent and made some dinner before we went to sleep. Next morning we were up early and decided to look for a better place and we found it in Beaufort.
France & Switzerland
The French alps, always a very beautiful place to travel around, but this time I wanted to see the concolor Asp Vipers which can be found at several places, but this far I only saw one that just has been ran over by a car close to Briancon.
We put down the tent for 3 days on a campsite in Beaufort, a place famous for its cheese. My parents were also in that area with their old-timer camper van, so we made a link up and spend some days together.
In these days I went searching for Asp Vipers several times in the morning and found many of them, almost half of them were 'concolor' ones.
The rest of the days were spend with drinking wine with my mother and beer with my father next to the BBQ most of the time. We also checked out a little lake closeby where my father found many Grass Snakes some years ago, this time I only saw one and it escaped into the vegetation.
Around the time that the weather was getting shitty we moved away and drove towards Switzerland where I wanted to see melanistic Asp Vipers, when we arrived it was still raining, but the next morning the sun was out and I was early in the right place, around 75% of what I found were black ones.
In the afternoons we visited some other valleys in that area and also there we found Asp Vipers, most of them also being melanistic. After 2 days we started to drive towards home and here I started my preparations for the next trip, which was 2 days later to Southern Morocco with my UK buddies Matt & Carl.
Much to do, many locations and you might not notice it, but the time spend for herping was not that much.
It was nice to meet everybody and even go to a special wedding.
Seeing lots of vipers was great too!
Thanks to my buddies Bobby, Frank, Wouter and Teja!
  1. Common Toad - Bufo bufo
  2. Grass Frog - Rana temporaria
  3. Alpine Newt - Ichthyosaura alpestris 
  4. Alpine salamander - Salamandra atra ssp aurorae & pasubiensis
  5. Sand lizard - Lacerta agilis
  6. Western Green Lizard - Lacerta bilineata
  7. Common Wall Lizard - Podarcis muralis
  8. Viviparous lizard - Zootoca vivipara 
  9. Slow Worm - Anguis fragilis
 10. Grass Snake - Natrix natrix
 11. Smooth Snake - Coronella austriaca
 12. Asp Viper - Vipera aspis atra
 13. Adder - Vipera berus
 14. Nose-horned Viper - Vipera ammodytes
---
---