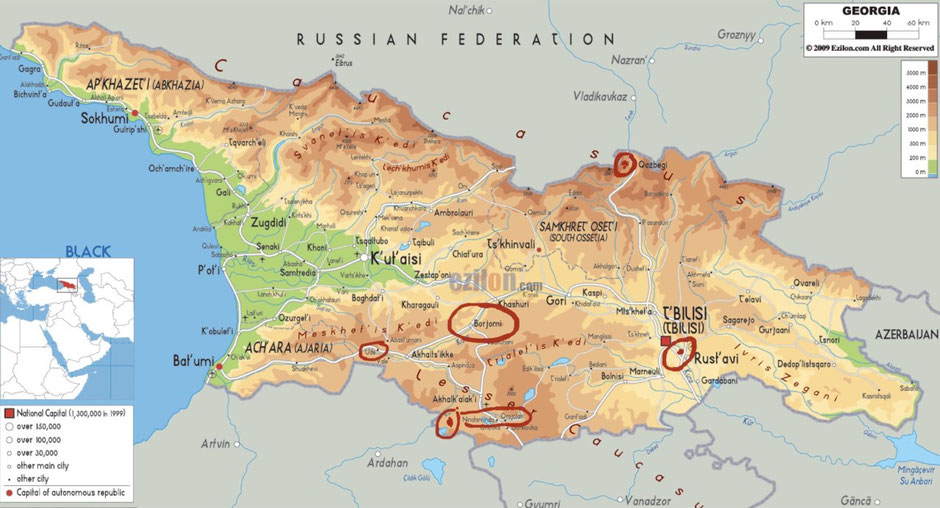 © All CONTENT & PHOTOGRAPHS G.J. VERSPUI 2018 ©
Unless stated otherwise.
For viewing the photos in a bigger size, just click on them
Georgia, a must go destination if you like vipera, 6 species can be found here together with some very interesting amphibian species like the Caucasian Salamander and the Caucasian Parsley Frog. When Bobby and Laura asked me if I wanted to come I said yes straight away, but only for a shorter period of time because of my own planned holidays to Greece with my family.
Caucasus Mountains, august 26 -28th
Together with Anniek I flew to Georgia, it was an evening flight so we sort of skipped the night and started as zombies the next morning. After picking up our Toyota Prado we drove into the Caucasus Mountains and headed straight to an ancient church, in this area we started searching and despite the lack of sleep we still found what we were looking for: Vipera dinniki.
In the afternoon we visited an ancient tower where women were lucked inside when it was unsafe in ancient times, we tried to do it again, but it did not work very well, times change..
In a valley we searched a bit more and found many amphibians and Dom found a small Vipera dinniki again, having not much energy left we went into Stepantsminda and found a place to sleep and a restaurant with beer and good food. after this there was nothing else to do than sleep.
The next morning we wanted to hike from the church to a higher place where there was a great view of the Kazberg mountain, on the way up I searched while hiking and found 3 more vipers, I arrived last up the mountain, so some quick shots of the scenery and back down. Bobby found a juvenile vipers while going down, after some photos all vipers were released at the place where they were found.
When we arrived back at the car we choose to hit the road straight away and head for Borjomi.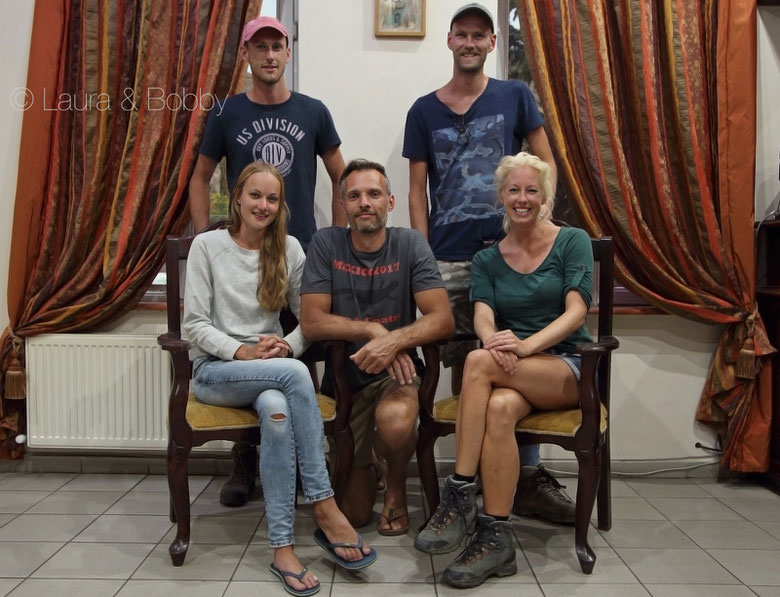 Borjomi, august 28-31st
When we arrived in Borjomi we first drove towards a valley where we wanted to search in the evening, we met here with some park rangers and they were ok with us searching there at night.
In Borjomi we found us a hotel, which was shitty because they did not even serve breakfast, but we slept fine there.
In the evening we drove towards the valley and got some dinner along the way, in the valley we found what we were after, 2 male Pelodytes caucasicus, these frogs are one of the few amphibians that breed in summer.
The next morning we drove to  an area with some forest, open spots with scree and low vegetation, this was a good area for vipers, but it took us a long time before we finally found that pretty female Vipera transcaucasiana.
While searching at a spot a bit away from the others I met with 4 local guys who were digging a grave for a friend who recently died, while taking turns digging they had loads of beer and home made wine to keep motivated for breaking open the very hard ground. They invited me for a drink and before I knew it I had to try all the drinks and food the offered me. About an hour later I walked back to my friends and found out that Bobby found the viper.
After taking photos we finally had some time to buy breakfast at a small shop. Laura was driving because I could not walk straight anymore and I wasn't so hungry either.
In the afternoon we had to do some swimming in the amphibian valley and at night we searched there again.
On the 30th of july we drove to the place where I had the early morning beer and wine party the day before. Here we met with Zauri, he wanted to show us a place where Vipera kaznakovi is found in spring... we knew we did not have a lot of chance to find it, but it is always good to try..
In the afternoon we searched for some places to look for amphibians close to Bakuriani, the places did not look very bad, but after dark we did not find any newt activity, we did find a couple more Pelodytes caucasicus and this time we found a female as well.
After an other morning without a proper breakfast we ended up in a valley west of Borjomi, it was Dom who found 2 more Vipera transcaucasiana, 1 very good-looking male and a female that was in shed. The vipers were photographed next to a very nice stream, so swimming it was.
In the afternoon we drove further west and arrived in at an other mountain range, here we hoped to find Mertensiella caucasica, at first we only found very tiny ones, but at one spot Anniek and I found a very shady, wet and mossy area and 5 adult salamanders were seen, we photographed 2 and continued our journey towards Ninotsminda, late at night we arrived and found a hotel.
Ninotsminda, august 1st - 3rd
We were here for 2 more Vipera species, early in the morning we searched on the slopes of some hills, but the temp was high and no snakes were seen. The rest of the team gave up quickly, but I searched a little longer finding some spots which were almost perfect, but all what I found was a skin of Vipera eriwanensis. When I walked down I sprained my ankle, so I was happy with the coffee and cheese I got from the very friendly Armenian family who lived there.
The afternoon was used for swimming and a bit of herping around the lake, when the temperature became more viper friendly again we searched again, but no vipers. Back in Ninotsminda we found a place to get some fastfood, at a shop next to it we found some good beers. After that we tried to find some bears close to a dumpsite, but no luck again.
The next morning it was cold and rainy, so had to choose where to go first, 1 hour later we arrived at a mountain and as soon as we stopped the car there was a little bit of sun coming through the clouds, within half an hour we had 5 Vipera darevskii, made as fast as we could some photos and drove back to the site for Vipera eriwanensis, it looked promising when we were almost there, but that area was the only area that was already in the sun the entire morning.
Tbilisi, august 3 & 4
The drive from Ninotsminda was a long one and the backseat of the car was filled with sleeping people, so I get why they think that drive was rather smooth, Anniek and I did the driving, close to Tbilisi we had some good food at a roadside restaurant and after that we did some late afternoon herping. Laura found a tiny snake and a tested was seen, in the evening we went into Tbilisi because of a gecko species that lives on an ancient church in the middle of the city centre, we found it!!
On my last day we searched at several locations close to Tbilisi and got lucky with finding many Dolichophis schmidti, 3 of them were caught and the very red one went into a hole, it took me 15 minutes to get it out, but it was worth it!
In the evening we searched at a lake and found several Pelobates syriacus, after this it was time to go to the airport for me, I was lucky that some of the crew were sweet and actually drove me all the way (20 min) to the airport instead of throwing me in a cab.
Thanks to all the people on the team for making it a great trip, we were not lucky with all we wanted to find, but it was a very good week with you guys!
I wished I could have joined you for the rest of your trip to the east of Georgia, if you would like to see how that went, here is a link to Bobby's report.
Caucasian Salamander - Mertensiella caucasica
Caucasian Toad - Bufo verrucosissimus
Green Toad - Bufotes viridis
Eastern Spadefoot Toad - Pelobates syriacus
Caucasian Parsley Frog - Pelodytes caucasicus
Levant Water Frog - Pelophylax bedriagae
Caucasian Brown Frog - Rana macrocnemis
European Pond Terrapin - Emys orbicularis ssp. iberica
Caspian Terrapin - Mauremys caspica
Spur-thighed Tortoise - Testudo graeca
Caspian Bent-toed Gecko - Tenuidactylus caspius
Armenian Lizard - Darevskia armeniaca 
Caucasian Lizard - Darevskia caucasica 
Derjugin's Lizard - Darevskia derjugini
Red-bellied Lizard - Darevskia parvula
Spiny-tailed Lizard - Darevskia rudis 
Sand Lizard - Lacerta agilis ssp. brevicaudata
Levant Green Lizard - Lacerta media
Smooth Snake - Coronella austriaca
Schmidt's Whip Snake - Dolichophis schmidti
Collared Dwarf Snake - Eirenis collaris
Dwarf Snake - Eirenis modestus
Spotted Whip Snake - Hemorrhois ravergieri
Grass Snake - Natrix natrix ssp. scutata
Darevsky's Viper - Vipera darevskii
Dinnik's Viper - Vipera dinniki
Transcaucasian Long-nosed Viper - Vipera transcaucasiana