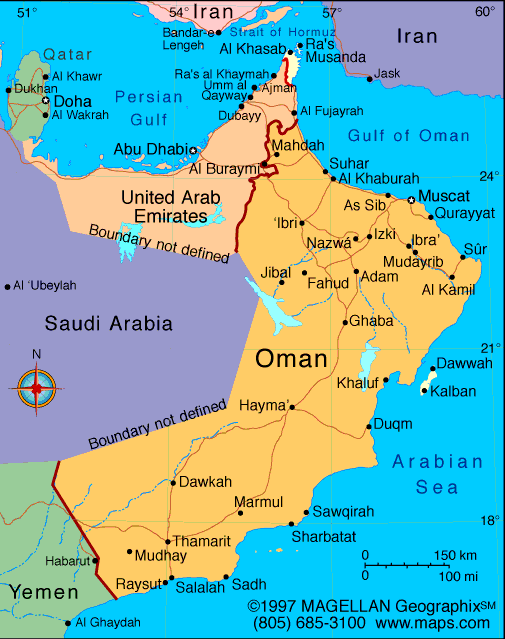 © All CONTENT & PHOTOGRAPHS G.J. VERSPUI 2015 ©
Unless stated otherwise.
For viewing the photos in a bigger size, just click on them
Oman, just an other dream location for me, the weeks in front of our trip I looked more then what was good for me at the reports of the Austrian team and damn, they did 2 nice jobs there!
Months before this adventure started I was emailing with my good friend Jürgen Gebhart, he was also thinking about doing a trip to Oman, so we tried to work out a plan. It was already his 3rd trip to Oman, so I had to say "sir" to him all the time at the beginning and the end of a sentence...
Together we exchanged ideas on what to do this trip, his experience came in very handy, so after a short time we booked a 9 or 10 day trip to Oman, the plan was to do the North and the South and use Oman Air to travel between those 2 places to save some time.
This far we were still a 2 man team, so I tried to find some more hardcore motivated herping machines, some of the toughest guys in the herping scene, came up with numerous girly excuses, but my Podarcis-minded-role model- Peter Oefinger was very positive and soon after the first contact he send me an email that turned the pressure up a notch (or 2).
"I'm glad to announce that I will be able to join your Oman-Team from 6.-15.3.! It will be an honour for me to see some professional snake-wrestlers at work."
So that was number 3! Meanwhile Jürgen took care of a schedule and our places to stay there and I booked the Rental cars, Jürgen insisted on taking a 4x4 both in the South and the North, so without asking any annoying questions I obeyed the master.....(the North you need a 4x4, but in the South we didn't visit any places that challenged our Jeep Compass).
To provide myself with some extra information about everything concerning Oman I mailed Philip de Pous on the 8th of february, he was very excited and 2 hours later he mailed me with the message: "Heb net geboekt. Zelfde vluchten als jij dus zie je op Schiphol!" (I just booked the tickets, same flights as you, see you at the airport!)
So that is 4 and Philip is a good member because he did fieldwork in Oman for 2,5 months in 2013 and all this information is still in his 8kg database (head).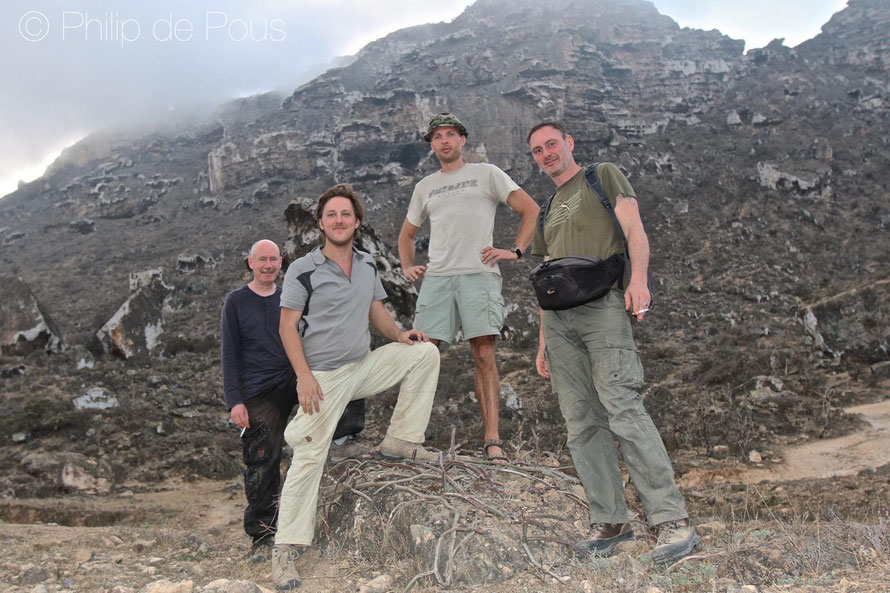 Friday, the 6th of march,
Cynthia gave me a ride to the train station and when she drove off I noticed that my phone was not on me, so the first stress was present, thank God she came back after 10 minutes and handed over the lost item, I did 50 push ups to pay for this f*ck up and continued my way to the airport.
90 minutes later Philip and I met on the airport, we got rid of our luggage and I proposed to get a beer here because in Oman it would be a lot harder to find any beer, but then something strange happened, a bright light form the sky came into the departure hall and made a golden ring around Philips head, he looked up and said: "Gert Jan, I don't drink anymore, I quit smoking and I am on a diet"
I looked at him and said: "Good job, me too, now lets have a beer", but we only went for a bottle of water...
Our flights were with Turkish Airlines, we liked it, nice people and good (healthy) food, unfortunately we had a stopover in Istanbul and when we walked out of the airplane we only saw very dark clouds in the sky and suddenly the golden ring above Philip's head started to fade away...
The next thing that happened was Philip saying: "Lets meet at food court in 15 minutes, I will have a smoke first"
The next airport was Muscat Airport and it was already 02:30, we went outside and saw the first herp of the trip, a gecko!!

Half an hour later we met with Jürgen and Peter who already been out and found some snakes & gecko's.
The rest of the night we just looked at each other and killed the 6 hours with staying awake, around 08:00 we took off with Oman Air towards Salalah in the South of Oman.
After picking up our rental car, an almost new Jeep Compass with a weak engine and barely enough space inside, we went towards the first place, it was near Mirbat on a beach, it looked a bit like the desert edition of paradise, but nobody didn't really notice that after not sleeping for more then 28 hours, we looked around and Philip found the first Uromastyx benti and we were able to photograph this male in situ, after that we were surprised by a group of dolphins close to the shore, Philip got undressed faster then an English cop, or Dutch biology teacher who can get their tummies rubbed in a stripclub and he shouted: "this is what I came here for, a real holiday....."
We looked at each other, made some photos and went back to the reptiles, close to the car we found some really cool species and when we got back at the car we saw the same male Uromastyx benti at an other spot, after some stalking towards the animal and some great In Situ photo's I was able to catch it for some close ups.
Next spot we went was Wadi Hainna, this wadi had Baobab trees and some natural and human made ponds with water, here we looked around and saw a lot of Pristurus sp.1 and then Peter and Philip told me they saw a blue headed Pseudotrapelus dhofarensis, so I asked where it went, it went into a hole, but I could still see the dark shape inside the dark hole, I photographed it using manual-focus because the auto-focus did not work with that low light.
When we got back in the car I checked out the photos and shared my doubts about the blue headed agama, but it took a while before they all agreed it was actually an Acanthocercus adramitanus, a species that Jürgen did not see before on his 2 other trips to Oman....Jürgen almost reached a higher level of grumpiness and only real friends know that he is not a grumpy bastard, but he only gets grumpy when you give him a reason.......So.....I would say that he got his first reason here! (minus 2 points for P & P)
Some food close to Jürgens favorite restaurant (the silver shower, or something like that..) gave us some new energy, Lebanese food is good!
That night we went to a wadi with water close to the coast, a good place for Chameleons and many other species, we did not find any Chameleons, but only some gecko's and Jürgen came back with a beautiful Echis khosatzkii, after a photo session and giving away 1 liter of blood to the local mosquito gang we finally went towards our hotel. Thanks Jürgen (plus 2 points)
Sunday, the 8th of march,

Around 07:10 I heard a loud bang on the door of our room, we talked about going out of bed at 06:30, but I was glad that nobody had set an alarm, at breakfast we used the wifi to let the people back home know that we were still alive and motivated!
First place we visited was a wadi where some people saw a Cobra before, for this moment I recently purchased a new snake tong at snakeprofessional.com, it was the M1 collapsible Snake Tong 40", this model I used last year in Israel to get a Black Desert Cobra out of a waterhole, the people of that company are great, interested and willing to listen to my wishes and the products were send straight away and they looked great!
So we went there and searched all around the ponds we saw there, but only gecko's, a skink and camels and Philip let a snake escape, but he was ok with that because snakes are only by-catches when looking for Hemidactylus.....(minus 5 points)
Nearby we visited the coast and again found gecko's and an other big skink, the blowholes at that area did not really do what is in their job description, but the area looked great anyway.
Later that day we went into the direction of Wadi Ayun, truly a magical place, but it took a little longer to get there because someone did not look good enough at the fuel level of the car.....damn, I hate making f*ck ups....(minus 3)
At wadi Ayun we were too late to look for day active species like Uromastyx, Mesalina, so we waited a bit and started looking for the night active gecko species there, we all found some white gecko's and I even made some In Situ photographs of these cool white monsters.
Monday, the 9th of march,

After a good breakfast again we went towards Wadi Darbat, an other place to look for Cobra's, so the snake tong was carried in an operational way to be ready at the right moment.... The water in de wadi looked tempting for a little swim, but I managed to keep my focus on the Cobra....after a couple of hours we gave up.
Next touristy place we visited was the big sinkhole, named: Tawi Atair, around it we saw many Calotes versicolor and some gecko's, when I was done photographing a Hemidactylus alkiyumii I noticed that all the other team members were gone, so that was the moment the team spirit died.....I walked down the sinkhole and found Jürgen who was making some tourist pics, so I did the same, when I came back up I saw Peter photographing the stupid invasive Calotes, so I did the same again, at that moment my reflexes were very far from sharp so the Psammophis schokari that raced by was too fast for me. (minus 1)
When Philip came up he told me that he went into the sinkhole and saw some species, I was still a little annoyed that plans like that were not shared when we arrived at the location.
The next thing happening was that Jürgen wanted to go shopping...(minus a lot...). I counted to 10 a couple of times.
On the way to Jürgen's shopping moment we had a short stop at Wadi Hainna where I saw a skink and I let the second snake of the day escape, it was the same species as the first one.
When Jürgen was inside all those shops we were waiting at the car, when he came back he had a big smile on his face, I think he bought a matching outfit for his shopping behavior..... : high heels and a dress.
After an Indian dinner in the late afternoon we drove towards the mountains west of Salalah, here we searched a bit and made the first group picture, when it became darker we started to see some more animals, all gecko's of course.... except Peter he walked around with nothing but his flashlight and his camera and found an Echis coloratus, which escaped without too much effort into the rocks, I removed 1000kg of rocks, but it was gone. What a day..... (minus 10 for Peter)
We still had some time left, so we searched in a wadi lower in the mountains, within 15 minutes I was lucky and walked into a Telescopus dhara (plus 2) and 2 white Ptyodactylus dhofarensis. At the beach we searched again for some gecko species, but only the usual stuff was found.
Time to go to bed!
Tuesday, the 10th of march,
Good morning Oman, breakfast again and then to a coastal area just east of Salalah, here we did some birding, found some gecko's and the Germans found some snakes, Jürgen found one thin enough to be used as a needle when addicted to heroin and Peter found a slightly bigger one that would still be slim enough to hide itself in the narrow straw that Philip uses to enjoy his 4 (almost sugarfree) Coca Cola's every day. It was a Myriopholis nursii and it was only the 3rd time this species was found in Oman and the first time this species was found in the South of Oman, so Peter won back some points here! (plus 2)
Next place we visited was the Jebel Samhan, a big plateau were there are still free roaming Leopards, nobody ever sees them, but camera traps proof their presence, from the edge of the plateau you could see the ocean.
Our goal on the plateau was less exciting, we looked for a lizard known as Mesalina adramitana, but according to Philip this Mesalina could be a new named species in the near future, I think we all saw at least one of them and Jürgen caught one to make some better photo's. Not much else was seen except Pristurus sp.1 & P. carteri.
On the way back from the plateau we searched in a small wadi, but only flora was photographed. Back at the car we talked about what to do, some even had the plan of going to the hotel (minus 10) (75km to the west) and rest a bit to fill up the energy levels....... The German back seat guys didn't really say what they wanted to do, but I made the assumption that they still were hardcore herpers and made the decision to drive to Mirbat beach paradise (20km) where we could all do what we wanted, sleep, swim, look for Uromastyx or Pseudotrapelus...
At first there was some tension because I did not use democratic ways in my decision, but we all knew it was the best option.
We had a great afternoon and made some cool photos of a male Pseudotrapelus dhofarensis and did some swimming, we all went in with swimming clothes except Jürgen, he likes to be 1 with nature and always swims naked.
The night plans were Wadi Darbat again, so we had dinner In Taqah, this was very close to Wadi Darbat, where we only found Toads and Bats....on the way back an other search was done at the lower Wadi Darbat, but nothing there, but gecko's.
Wednesday, the 11th of march,
After breakfast we went to the airport, for me the first time to take a little power nap, the others were always sleeping (or talking..) with their mouths open in the car, when I was driving, so now it was my turn, I slept during the whole flight.
So we were back in the North and according to Philip (who gave himself a new name: "Chief of the North") it would all be better here.
We picked up our rental machine, a Nissan X-terra 4.0 and drove off. The first stop was close to the airport, a place with a lot of rubbish to flip, Peter was the man and he found and caught the snake species that escaped from my hands 2 times already.....good job Peter! (plus 2)
Wahiba sands was the next place to visit, more then 2 hours in the car, for some a good time to be silent and enjoy the scenery, for others a time to talk and talk and talk and talk....
In Ibra we had diner and after that we drove to the dunes, the sun was almost gone, but we still found some gecko's, what else...... I looked around for tracks in the sand and found more then one place were there were active Scincus mitranus, most of them go into holes again, but some are just in the sand, I tracked some and was lucky to find one in the sand where the track ended. (plus 2 according to the other team members)
We went to the hotel quickly to throw our luggage in the room, our rooms were 1 single room and a room with 3 beds, the "chief of the north" was trying to get the single room, so he could have some mystery time for himself........so I had the idea to treat the oldest of the team on the single room, he liked it!
We searched first around the hotel and we found many little Stenodactylus sharqiyahensis on the sand, I also saw tracks of Scincus mitranus and Eryx jayakari, but the hard wind screwed up all the chances of tracking any snake...
So whats next...shall we go to a place where Cerastes gasperettii and Eryx jayakari can be found? No, the "chief of the north" had a better plan, let's look at the place where 1 Hemidactylus was found, the snakes are by-catches anyway and they should be there as well, we believed him and didn't see any snake track the entire night.......and the Hemidactylus didn't show up either... (minus 10)
Sleep well!
Thursday, the 12th of march,
I woke up around 06:00 and went outside, I knew that this was the only chance to find something nice in one of my favorite habitats in desert areas: The sand dunes. I searched mainly on the soft sandy parts and looked for tracks, I found a snake track within 10 minutes and started the chase, I think I tracked the snake for around 300 meters and every time I thought the track stopped it kept going in an other direction, but suddenly the track stopped again, I looked around it and did not see any track go out of that spot, so lets give it a try, I put my hands in the sand and felt the tiny body of a juvenile Eryx jayakari, a loud prehistoric eeeuurrrrrhhhhh was the expression of my happiness, some time later I found tracks of a juvenile Varanus, but lost them again on the harder parts. (plus 2 and German kisses..)
Around 07:00 I saw that Peter and Jürgen were also outside, so I showed them my find.....they grabbed me and treated me on German wet kisses all over my face, next time I will think twice about showing the coolest find of the trip ;)
Around 08:00 we went back in the hotel and had breakfast, at this time Philip was still in bed, so we woke him up. (minus 2)
Next we drove towards Nizwa and headed to the Sayq plateau, this perfect road is only welcoming you if you have a 4x4 car, they even have a police control post just in front of the mountain road, we were allowed to go up and the "Chief" showed the way to a beautiful wadi at around 1950m absl, the temperature here was a bit low, we found toads in every place with some water and I saw a lizard running away, but there was an other one which was slightly bigger, it was a juvenile Omanosaura jayakari and it posed well for some in situ photographs!
The "chief" tried to catch it, but that failed and the lizard was not seen again...(minus 2) the others were not happy with that, but Philip caught the first one I saw, (plus 2) so they were happy again. we stayed pretty long in that wadi, but not so much was found. At an other place we looked for Asaccus montanus, but without result.
After a very fat and tasteless diner at the Hungry Bunny we went towards Wadi Tanuf to look for gecko's... being successful only works as long as you make the wishes smaller, so we only look for gecko's now..
Friday, the 13th of march,
After a very simple breakfast we went to the eroded city of Manah to look for the tree dwelling Pristurus gallagheri and we found a couple of nice individuals!
Next thing was going into the mountains to test the 4x4, I told the other guys that we were looking for Uromastyx aegyptia & Pseudotrapelus jensfindumi, only the "chief" knew that it was nonsense, but I promised him an ice-cream, to shut up....after 4 ice-creams, 2 coca cola and a bag of crisps he agreed on the deal.
Along the way we stopped at a place which looked good for some lizards, I found Mesalina adramitana straight away and when the others were still taking pictures I spotted an other lizard, Acanthodactylus boskianus.

When we arrived the spot for the Uromastyx Peter spotted a blue headed Pseudotrapelus on a rock (plus 1), so we tried to make some photos, but it stayed away, so we left again.
That afternoon we tried some more plains and wadi's and we found some species again, Mesalina adramitana and an other Acanthodactylus, my guess would be opheodurus after seeing 3 adults, but you can't be sure in this way.
Back at Nizwa we had diner at the Turkish restaurant and it was very good, thanks "chief" for this good info!! At the restaurant Peter, Jürgen and myself wanted to sit inside because we have been walking outside almost the entire day, but Philip wanted to sit outside, we don't know why, but maybe he wanted some fresh air after staying in and around the car for almost the entire day, haha. (minus 2)
The night search was in Wadi Tanuf again and we (Peter, Jürgen and myself, Philip stayed at the hotel for some private moments with himself...minus 3) only looked for gecko's, so it was an other successful night!!! I was happy with the In Situ photographs of the tiny Asaccus gallagheri.
When we came back at the hotel Philip was watching a series on his database device naked, I don't know why..
Saturday, the 14th of march,
Crossing the mountains towards Muscat over an other great mountain road, on the south side of the mountains we stopped at a pool with a nice wadi next to it, from the highest point the road became a dirt road, we enjoyed the many fantastic views, but some people got a little nervous and wanted to get out of the car, I was one of them.
Close to Hat we saw some water and looked around, a juvenile Omanosaura jayakari showed us some good modeling skills and at the next place we found some impressive adults, which were not very shy, so we could make some decent photographs.
At a place where the wadi got wider we saw some water again and stepped out of the car, Jürgen and I were just saying that this would be a good place for Platyceps rhodorachis, when a snake tried to escaped just in front of us, I grabbed it and it was the subject of our short talk (we don't like to talk long, we only need a few words, a quality of an introvert).
The next animal that raised our heart beats was a Trapelus, but for me it was just a Pseudotrapelus, what a disappointment...
At Suadi Point, we looked in the dunes for Acanthodactylus blanfordii, I followed some tracks and found one, it turned out to be the only one we saw except for some gecko's..
Diner time, we went into an Indian restaurant and looked on the menu, but half of the menu was not there, so we all had the same and I don't think everybody liked it, but it was the cheapest meal ever, around 10 euro total for all of us.
So lets go to the next place, which is the last place this trip for Jürgen and Peter, their plane leaves around 02:00.
Close to Barka we went into a dune area and looked around, shortly after arriving Jürgen yelled: "Echis" and that was the first one, in total 6 were seen I think, we also found many Stenodactylus leptocosymbotus.
After this successful day it was time to say goodbye, Peter set up his camera for a last group photo and after that we drove towards the airport to say super-tschüss to Jürgen and Peter, all good things come to an end, thanks for the great company my friends!!
1 hour later Philip and I found our hotel and had a shower (after asking how to use the damn thing) and went into the strip club to drink beer
and do tricks on the pole....or was that an other trip?..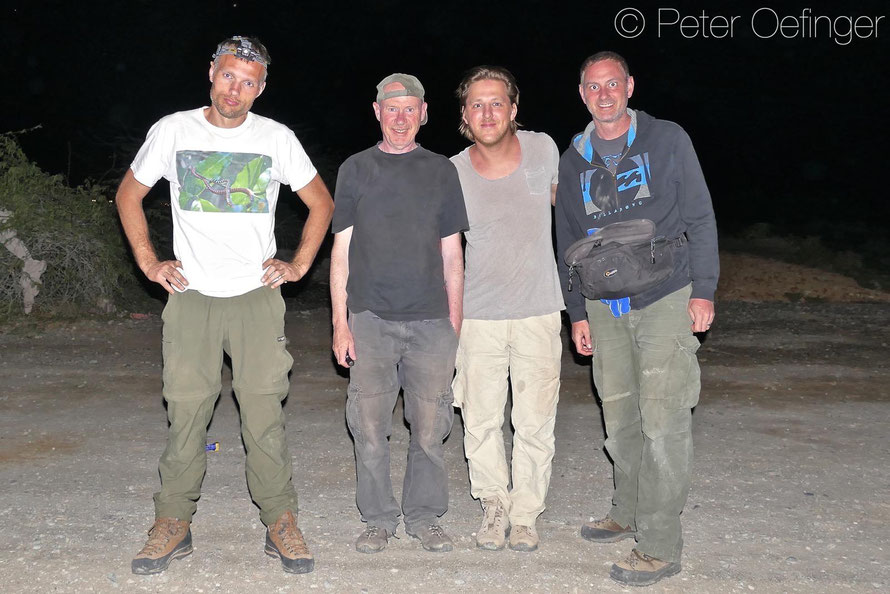 Sunday, the 15th of march,
We slept a bit longer and had a very good breakfast, Philip almost had the feeling again he was on a holiday, but I wanted to go herping again, so we made a plan and went to a beautiful wadi with water in it where Philip was before with his girlfriend in 2013, the wadi did not give us a lot of species, Philip found an Ablepharus pannonicus and I chased the usual gecko's and a butterfly.
For diner we went into Muscat to a good restaurant and after that we drove to a wadi to look for gecko's........we succeeded, nothing else was found.
On the way back to Muscat we stopped one last time at the Hungry Bunny, we both needed one big greasy night meal to get us through the 14 hours of flying and waiting towards home.
The lack of sleep during the whole trip came as a gift, I slept most of the time during every flight (3). 
At Istanbul airport we walked towards the food court again, but Philip first wanted some quality time in the smoking area, after this we had a coffee and skipped food court, when we left, Philip left his cigarettes on the table.....the golden ring above his head came back again.....I think he will be alright!
Oman, I will come back to enjoy this country some more, I was surprised by the kindness and hospitality of the Omani people! I never felt so welcome! The food is very cheap and the fuel is almost for free!
This trip was an other great one, thanks to all the members for putting in their best (or second best) effort to make this a success! The team was 3 herpers and 1 scientist, 3 people who don't talk a lot and 1 who can't stop talking (thank God he brought his iPod), 2 lizard boys and 2 snake boys who love lizards as well...but all 4 loved making jokes about each other and kept a good spirit!
No surprise to everybody that we had some exciting moments amongst each other, but that just made it far from boring!
The system of giving each other points when somebody makes a screw up kept us all a bit sharper. I was unable to give a final points schedule, because it took sooooo much time to count Philips points.
Next time in Oman I hope I can find a team just as good as this one, Jürgens and Philips knowledge on this country is amazing and contributed to some good results in the end and Peters company was perfect also!
In total we found 50 species and I think that we did well!
The snakes were not that active yet and the temperature in the mountains is a bit low for successful herping in that area, so maybe late april or early may is better for a future Oman adventure.
Thanks to Franziska Bauer for her help on the butterfly ID's!
Make sure to read Peter's report as well!
Jürgen's flickr page is great too!
---
    1. Duttaphrynus arabicus
   2. Duttaphrynus dhufarensis
   3. Asaccus gallagheri
   4. Asaccus platyrhynchus
   5. Bunopus spatalurus hajarensis
   6. Bunopus tuberculatus
   7. Hemidactylus alkiyumi
   8. Hemidactylus festivus
   9. Hemidactylus flaviviridis
 10. Hemidactylus hajarensis
 11. Hemidactylus lemurinus
 12. Hemidactylus minutus
 13. Hemidactylus paucituberculatus
 14. Hemidactylus robustus
 15. Pristurus carteri
 16. Pristurus celerrimus
 17. Pristurus gallagheri
 18. Pristurus minimus
 19. Pristurus rupestris
 20. Pristurus sp.1
 21. Ptyodactylus dhofarensis
 22. Ptyodactylus orlovi
 23. Stenodactylus doriae
 24. Stenodactylus leptocosymbotus
 25. Stenodactylus sharqiyahensis
 26. Acanthocercus adramitanus
 27. Calotes versicolor
 28. Pseudotrapelus dhofarensis
 29. Pseudotrapelus jensvindumi
 30. Uromastyx benti
 31. Acanthodactylus blanfordii
 32. Acanthodactylus boskianus
 33. Acanthodactylus felicis
 34. Acanthodactylus opheodurus
 35. Acanthodactylus schmidti
 36. Mesalina adramitana
 --. Mesalina sp.?
 37. Omanosaura jayakari
 38. Ablepharus pannonicus
 39. Chalcides ocellatus
 40. Scincus mitranus
 41. Trachylepis brevicollis
 42. Trachylepis tessellata
 43. Myriopholis macrorhyncha
 44. Myriopholis nursii
 45. Eryx jayakari
 46. Platyceps rhodorachis
 47. Psammophis schokari
 48. Telescopus dhara
 49. Echis carinatus sochureki
 50. Echis khosatzkii
 --. Echis coloratus (not identified)
 --. Chelonia mydas (dead)
---
---