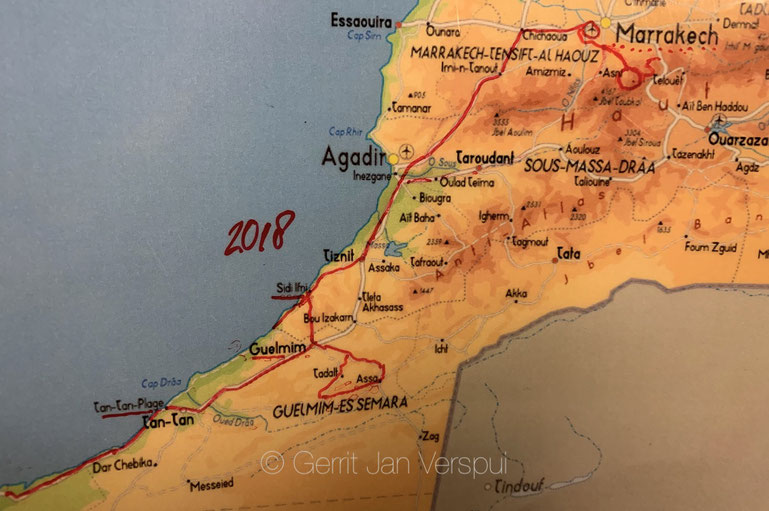 © All CONTENT & PHOTOGRAPHS G.J. VERSPUI 2018 ©
Unless stated otherwise.
For viewing the photos in a bigger size, just click on them
Yes, an other trip to Southern Morocco, but why? This is the 3rd trip to the south, I have been there in the spring of 2015, summer of 2016 and this time was a bit of a gamble because it was late october.
After going there a couple of times, it is clear for me which time is the best to visit and late october is not it!
In previous trips I already saw most of the species I really wanted to see, but 2 iconic ones eluded me, so when we found both on this autumn trip I could not be more happy.
For Anniek it was her first trip to Morocco and she had high hopes for seeing Cerastes cerastes....did we find it...?? Noooo
Sidi Ifni, 20-22nd of october
It is always a long drive from Marrakech to the south and we made some detours along the way to check some holes, but nothing was found. Around Sidi Ifni we did find some animals inside the holes and we got them out. The highlight was finding 2 juvenile cobras, a species I did not see before in Morocco on previous trips.
In the evening we did some road cruising and found a juvenile Puff Adder, not as impressive as the adults I saw here before, but we were happy with it anyway.
Guelmim & Assa, 22 - 23rd of october
From Sidi Ifni to Guelmim is not a very long drive, the part from Guelmim to Assa is a bit longer, but there are holes which we wanted to check along that way. That day was a bit cold and there was rain, so most of the holes were filled up, only around Assa we found a couple of them which were more or less dry, the only snake we found was an Algerian Whipsnake and close to that we found a young uromastyx in a steel pipe in the ground.
In Assa we tried to find out if we could sleep in Hotel Nidaros, but there was no one who could help us, so we drove back to Guelmim and checked in at the Oasis Palm Hotel, a fancy place with the worst pizza ever, but they had beer, so we survived.
Tan Tan, 23 - 25th of october
We took the whole day to go from Guelmim to Tan Tan, the rain from the previous day did not fall here so we only found dry holes, so we had a busy day. We found 28 snakes of different species that day, so that is not bad and 2 were pretty good finds. My first ever Daboia mauritanica and it was a very nice one and a new record for Echis leucogaster east of Tan Tan.
The next day we drove further south because I wanted to search at night in the Khniffis Lagoon area, this is a good place for Cerastes vipera.
During the afternoon we searched a bit in the sand dunes and flipped some stuff and found some geckos, we also checked a collapsed water hole and found the target species already in the afternoon. In the evening we drove back to Tan Tan and did a little bit of road cruising in that area.
On the morning of the 25th we checked the last couple of holes close to Tan Tan and after that we drove back towards Guelmim and checked the holes we did not check on the way in. A third Cobra and the first ever African House Snake were the best finds of that day.
Guelmim, 25 - 27th of october
Halfway between Tan Tan and Guelmim lots and lots of rain came out of the sky, we had just reached a place with many waterholes close together, but now they were almost all being filled within an hour.
So that was it for finding more snakes..maybe late october can be good, but you can also be too late and all the animals will drown before you check the holes.
In Guelmim we stayed in Tighmert, an oasis which you can only reach when you cross a wadi, but the water in it was still not much, so we did not worry.
That night we drove to a place with sand dunes, I had found Cerastes cerastes here in 2016, so we wanted to try again, it was not raining, but the sand was still wet from earlier showers, we found almost no activity, so we drove back and found out that one of the 2 entry roads was blocked because the wadi became a wild brown river, luckily the water had not reached the other side yet, so we could still reach our place in Tighmert.
The next day we were cut off because of the high water, so we took some dirt roads from tighmert into the desert.
Haute Atlas, 27 - 28th of october
From Tighmert to the High Atlas is a very long drive, but we still tried a couple of holes in the area of Guelmim, all were totally filled up.
When we arrived at Top Ourika Hotel we were just in time for Dinner, so that was perfect.
The next day we drove up in the mountains and checked out the place where Vipera monticola lives, it was freezing up there and snow and hail were falling, so late october is not the best time for herping in the high atlas mountains.
So an autumn trip to Morocco, as you all can see it all depends on the weather, it is normal that the rains will come around that time, if not you will still be able to save animals from the water holes, an other thing we noticed was that there were no Uromastyx seen active, even in the areas where we had good weather and where I saw them before. 
My guess would be that late september would be the best time if you want to see a lot of Moroccan herps. For me it was a good trip after all, even when 4 searching days were useless, can't complain much when finally finding Naja and Daboia.
Special thanks to Gabri for giving me some extra information.
If you want to see more about Morocco, please have a look at the trip reports from 2015, 2016 and 2017.
1.   Barbarophryne brongersmai
2.   Bufotes boulengeri
3.   Sclerophrys mauritanica
4.   Hyla meridionalis
5.   Pelophylax saharicus
6.   Mauremys leprosa
7.   Tarentola mauritanica
8.   Tarentola chazaliae
9.   Stenodactylus mauritanicus
10.  Tropiocolotes algericus
11.  Saurodactylus brosseti
12.  Agama impalearis
13.   Eumeces algeriensis
14.  Uromastyx nigriventris
15.  Acanthodactylus pardalis
16.  Acanthodactylus boskianus
17.  Chalcides ocellatus
18.  Chalcides polylepis
19.   Boaedon fuliginosus
20.  Macroprotodon brevis
21.   Malpolon monspessulanus
22.   Hemorrhois hippocrepis
23.   Hemorrhois algirus
24.   Lytorhynchus diadema
25.   Spalerosophis dolichospilus 
26.   Psammophis schokari
27.   Naja haje legionis
28.  Cerastes vipera
29.  Daboia Mauritanica
30.  Echis leucogaster
31.   Bitis arietans