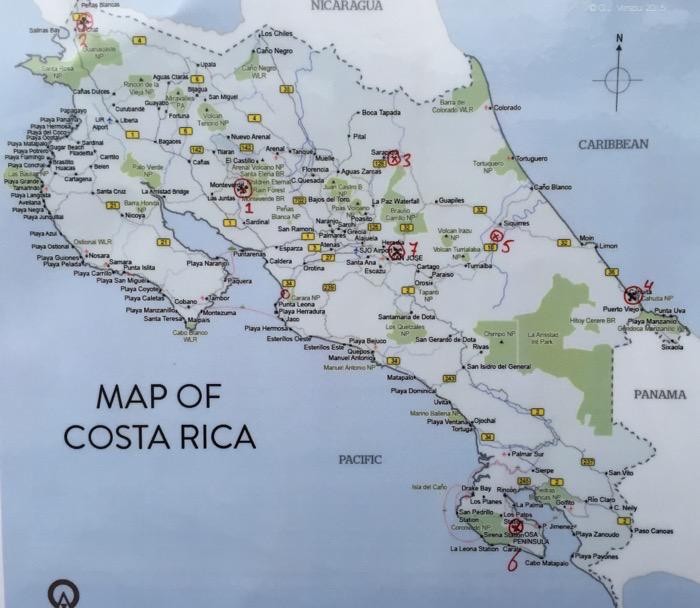 © All CONTENT & PHOTOGRAPHS G.J. VERSPUI 2015 ©
Unless stated otherwise.
For viewing the photos in a bigger size, just click on them
Costa Rica, I don't think this country needs an introduction, around 400 species of amphibians & reptiles inhabit this tropical paradise.
Ever since I met my girlfriend we had the plan to visit CR at least ones in our life's, so we did it the smart way and waited until we had 2 children, so we would lose twice the amount of money for tickets to fly there.
I must admit that the prices for the tickets were not that bad, so we started planning, the flying schedule made us stay for 13 hours in Miami and this may be an annoying very long break within the travel time for some, but for me it was great, because now I had the chance to visit the Everglades National Park for a few hours at night.
The preparations for this trip where a bit different then with other trips, this time I did not ask anyone about specific information about where to find certain species, I just did research on what I thought where the best places to spend a few days with the family where we could have a very good time and where I would have the chance to see some herps.
After some weeks I almost booked everything, the places we wanted to go where: Monteverde, La Cruz, Chilamate, Cahuita, Siquires, Osa peninsula and the last night was close to San Jose.
The places we visited where normal places except for 1, I really wanted to spend some nights at the Costa Rican Amphibian Research Center (CRARC) and this proved to be a very good place for seeing lots of species.
We left The Netherlands on the 20th of July and our first flight was to Philadelphia, Miami was the next stop, here we stayed for 13 hours, so I rented a car brought my family to our hotel and drove towards Everglades National Park, I arrived around 23:00 so for proper road cruising it was already a bit late, but still I found some nice animals on the road, 2 of them where hit by a car, one was dead, the second still moved, after that only alive snakes, in total I saw 6 snake species, one of them was dead unfortunately.
Photographing the snakes was the next challenge, mosquitos ruled the area and made me run to the car very fast after making some photos.
After that I looked around at the anhinga trail to find some alligators and I saw at least 5 of them and one came close enough for some photo's. Next thing was getting a bit of sleep, it was already 03:00 and around 05:00 we had to get out of bed again.
Monteverde, july 21st -july 24th
The flight from Miami to San Jose was only 3 hours, so around 10:30 local time we arrived in Costa Rica, next thing to do was get our rental car, this is not very expensive here as long as you agree on taking big risks with a very bad insurance , if we wanted to have a less risky contract we would have to pay twice the amount we payed now.
First stop we did was at the famous bridge over the Tarcoles river, here we saw many, many big crocodiles and some Green Iguana's.
The next stop was Monteverde, our lodge didn't have space for us, so they booked us in a very big room with almost 360 degree views in an other hotel, we didn't complain.
During the day we did things with the whole family and when it got dark I looked around on the trails in Monteverde forest reserve and Santa Elena forest reserve, I don't know why, but it was very hard to find any animals.
The first night I was lucky, I wanted to look around at the Monteverde forest reserve, but the guys walking around there told me it was closed for public after last light, the only way to get in was with a guide, a bit later I will tell you more about that.
So what I did was walk around just outside of the reserve, I found some trails and walked around, when I came back on the road I saw a small green snake in the middle of the road, it was a Green Tree Viper, one of my reasons to go to Monteverde. It was the only find of that night.
The next night I walked around with my daughter straight after diner and we saw a snake, 1 Dink frog species and a Dirt Frog, after that nothing again.
For the last night I booked me a night tour in Monteverde with a guide, the tour was from 18:00 until 20:00, so it was already a very short tour and this guy managed to talk 25 minutes before he started to move and he was back 20 minutes before the end of the tour. During the tour he did show some interesting things, but when you start to tell the same story over an edible grasshopper for 4 times, you miss the essence of being a (good) guide. Luckily I found the very cool Rain Frog and the Blue eyed Anole sleeping on a leaf.
After this great experience.. I walked around in Santa Elena forest reserve and there I found a lot of moths.
La Cruz, Santa Rosa National Park, july 24th - july 27th
After 3 days around Monteverde it was time to move north, close to La Cruz we had a very nice cabin at Cabanas Canas Castilla next to a river with a crocodile inside, 2 species of monkeys, 2 toed Sloths in the Trees and a very crazy neighbor....my brother who was there to host a Kayak tour for a Dutch family along the Pacific coast of Costa Rica. His adventure would start a couple of days later so a link up was made to spend some time together. (more info at 'Inspired by Nature Foundation')
We arrived in the afternoon at Cabanas Canas Castilla and when I did some exploring of the terrain I spotted my very fat brother Robert and his buddy Ruud, always good to see him! That evening we ate some pizza at the cabin and after that we search around in the area close to the cabin, we found several frogs and toads and when we almost wanted to give up we stumbled upon a small stream and followed that for a while, this resulted in some huge crabs, some more frogs and Robert found the Jewel of the night, a Red-ringed Snail Eater, a very pretty snake.
The Next day we drove to the beach in Santa Rosa NP, the road was very bad and without a 4x4 you will not be able to reach that place without killing your car. Our small 4x4 was fine, but Robert's car had some lose plastic parts hanging underneath...(k.tchauffeur = dutch for very bad driver).
The beach was great and besides swimming and relaxing I also managed to photograph some lizard close to the beach. In the late afternoon we went back to La Cruz where we found a good restaurant with the best view in town, here we ate as fast as possible because Robert and I wanted to do some road cruising in the area, when we took off my daughter (7) was angry because she had to go back to the cabin, so we took her with us.
It took a while before I spotted the first snake and a little later the second of the same species, a Boa constrictor of almost a meter was the third, it was very calm, so even Elin wanted to hold it for a little while and even my warnings about 30 stitches in the hospital did not scare her off. After this it was only 15 minutes till I was the only one awake in the car, me hitting the brakes hard twice did wake up Robert and Elin a little bit.
On the way back to the cabin I found a freshly killed Hog-nosed Pit Viper, damn I want one alive.....but 5 minutes later I found a living one, because it was a busy road I decided to take that one with me to photograph it in the morning.
The next morning around 05:00 my son shouted that he saw monkeys, so that was it for sleeping in... the Spider Monkeys were pretty close and stayed around while we had breakfast, after that my family and I walked towards the little stream where the snail eater was found, we saw many basilisks, Cynthia found a pretty gecko and very close to the cabin I spotted a coral snake and was fast enough to capture it in a save way to make some photo's, meanwhile my brother was out of his bed and was a bit surprised seeing us coming from a good morning walk.
That day Robert and Ruud left us, so during the day we visited some beaches and drove through the area, after dinner we did some family road cruising and it was not that good (in numbers) as the night before, it was almost 23:00 when I spotted the first snake, an other Hog-nosed Pit Viper and half an hour later I started the route back to the cabin..
So I knew we were as good as without any chances of seeing my most wanted here, the Central American Rattlesnake, but what is that on the road....I jumped out of the car and made a subtile scream of happiness, in front of me was a very pretty Rattle snake of around 55 cm, it looked brand new, like it came straight out of the box.
I photographed it on the spot and released it again, because the next day we would leave this area and drive to Chilamate, which I regret now because daylight would be much better for photographing this beauty.
Chilamate, july 27th - july 30th
We stayed at the Chilamate Rainforest Eco Retreat, a family owned rainforest lodge.
This place was recommended by my friend Shani who stayed here with his girlfriend earlier this year. We had the large family room there and from there you could walk straight into the jungle, when I parked the car I noticed something around me, lots of colorful little frogs jumped around, the Strawberry Poison Frog and the Black & Green Poison Frogs were everywhere.
The first night we enjoyed the home made dinner they made for us and after that I drove towards La Selva Biological Station, when I was almost there I saw a snake crossing the road, it was the Callico Snake, so the evening started out ok, at the station I did not see much except for 1 Forest Racer and a Cayman from far away, amphibian activity was also low, but on the way back to Chilamate I found a Coffee snake, it was on the road again.
The first day we went for a guided morning jungle tour with William and he showed us some nice animals and other things during his walk, in the afternoon we visited town and looked around in the area, after dinner I went to La Selva Biological Station again and concentrated on the places with stream and swamps, I spotted some Tree frogs and a large Cayman that was not that difficult to approach, at some buildings I found some large Turnip-tail Gecko's, so not a bad night, but not a good night either..
The next day we tried out some trails around the lodge and we were lucky, the trail system is connected to the trails of the Selva Verde Lodge and these trails are longer then expected...

We walked and walked and I checked our location many times, but we kept going deeper into the jungle and we didn't have a map of the Selva Verde trails, so I decided to make it a real adventure and grabbed my compass and acted like we were lost, our lost procedure was putting the compass in Northern direction and then we would end up just west of our lodge, handrail the river to the east and we were able to get into some dry clothes again, the rain made the adventure a very wet and muddy one.
The kids & mom loved our new challenging route straight through the jungle and after sliding down steep hills, some river crossings and lots of other fun we arrived at our lodge again within the hour.
In the afternoon we went into town again for some groceries and in the late afternoon I went to the little stream close to the lodge to look for some animals, at a place where I spotted a Coffee Snake before I moved some wood and found what I was hoping for, the 3rd Dart Frog species of this area, the Lovely Poison Frog! After dinner I returned to the same place because I found egg clumps of the Red eyed Leaf Frog there too earlier on, the kids and Cynthia came with me and within a few minutes we found several very pretty adults, the ones here were the most colorful of all the places I visited in Costa Rica.
After this frog party Cynthia and the kids went back into our lodge and I search around that place and found more there then the 2 previous nights in the famous La Selva area.
2 species of snail eating snakes, a white headed snake, several tree frog species and 2 Helmeted Lizards were the score of that night.

The next morning we left Chilamate and went into the direction of Cahuita, close to Chilamate we saved a road crossing terrapin and after that I found some Four-lined Ameiva lizards.
We really loved this place, thanks!
Cahuita, july 30th - august 3rd
Cahuita, if you don't see an Eyelash Viper there, then there must be something wrong with you....thats how I thought about Cahuita..
We had a cabin close to Cahuita and it was cheap, but none the less it was not a bad place, we survived the loose electricity cables and other not so perfect situations.
The reason for this was that we were not there most of the time, when we arrived we had a look in town and at night I walked into Cahuita NP, but it was not for long, some boys and girls from Cahuita NP drove by me and asked me to leave the area, it was not allowed to walk there at night so I went back. 10 minutes before that I had found a Ringed Snail-eater, so at least I found something..
The next day we all went into Cahuita NP and spend a day at the beach, lots of guides are walking around there and some are nice, but others almost start crying when you look into the direction where they point out something for their customers....so I had some fun that day and found an Eyelash Viper 6 meters above the ground and some fighting male Anoles.
In the evening I drove to Manzanillo and started to walk the trail at the end of the road, many big toads were hopping around, in the water were some small caymans, I walked around there for more then 3 hours and I only found some Red Eyed Leaf Frogs and a Broad-headed Rain Frog, so I went back to our cabin and found a big Basilisk sleeping in the garden.
The next morning I went as early as possible to Cahuita NP and I was hoping to see some Eyelash Vipers and maybe a Rainforest Hognosed Viper, but I found close to nothing. In the afternoon we went to the beach again. The evening was disappointing again.
On the last day in Cahuita we visited Bocuare and walked some trails, here we saw several Emerald Basilisk's and some big Green Iguana's, the afternoon was spend at Punta Uva on and around the beach. The last night and I only saw 1 Eyelash Viper yet from a big distance, so I was not satisfied about that, so I prepared for a long night and went to an area close to Cahuita NP, it was a rainy night with some dryer periods in between.
The first Eyelash Viper was found after 1 hour and within 25 minutes after that I found 6 more and one Cloudy Snail Eater. From that moment the rain came down a lot harder so I walked back to the car and search on the road for some amphibians, many Tree Frogs and one almost dead Caecilian were found before I went back to the cabin.
C.R.A.R.C. august 3rd - august 6th
Finally we went to this place, a rainforest reserve privately owned by Brian Kubicki and his wife, when we arrived Brian looked kind of strange at us like he did not expect us, so we had a look at the reservations and somehow mine was not on his list, but this misunderstanding was very soon out of the way.
The people who stayed here before us were still there so Brian showed us around on a part of his property, within a couple of minutes we were in nice secondary jungle with small streams, some nice ponds and a jungle cabin with almost always one or more snakes in its roof structure.
After an hour we climbed back up, and moved into the guesthouse, inside we were welcomed by a big nice, but annoying poster on the wall with all the amphibians that occur on the C.R.A.R.C. reserve....every time I walked by the poster I saw all those amphibians I did not see yet...
Costa Rican Amphibian Research Center, for me this was absolutely the best place we stayed, all 3 nights I went out with Brian to look for amphibians & reptiles that live on the C.R.A.R.C. rainforest reserve, every night we visited an other part and found other herps. The first night I did not find a lot myself and Brian showed me some good stuff.
The most difficult of herping in a country like CR is that I was not familiar with the calls of the many amphibian species and where you could expect to find them, are they on the ground, 20 meters above you or somewhere in between. Brian showed me a lot and this was already working on the second night, I saw much more and we had an other great night filled with loads of animals.
During the day we did some hiking on the trails, or went to the river for a swim, or at least we tried...heavy showers made us soaking wet already when we arrived at the river, so we stayed there for a little while and climbed back up to the guesthouse.
Around the guesthouse were also 2 small ponds and every night when I went out herping with Brian the kids went outside and searched for Tree Frogs around those ponds, my son still says that he saw more Red-eyed Leaf frogs then I did because I was not there with them, maybe he is right..
On the third night the rain was coming down like crazy and the wind was really strong, Brian already came up to the guesthouse and was a little concerned. Heavy rain in combination with strong winds make the jungle dangerous, death fall is a serious thing in jungle environments and nobody wants a big piece of wood falling on his head from 20 meters higher..
We were lucky (or I, because Brian lives there..) and the rain stopped and the wind was getting less strong, loads of animals were getting out, waiting for us.
I really enjoyed staying here and when I ever get back to CR this would be the first place to visit, the things you will learn here will benefit the rest of the stay for sure.
Thanks Brian for your hospitality and this great experience!
Osa Peninsula, august 6th - august 10th
A very long drive from C.R.A.R.C. to Osa, but Brian gave me a good tip to see 3 high altitude species along the way. The Distance  was almost 400 km, this is peanuts in The Netherlands, but now it took us around 9 hours.
When we arrived in Los Brazos it was already dark and I was very tired, so I only photographed some Tungara Frogs and walked a little bit around the cabin.
The next day we walked some trails, did some river crossings/swimming and I looked for Dart Frogs along the way, it did not take long before I found the 3 species that inhabit this area, 2 of them were new to me. The trails were crossed several times by small streams and some slightly bigger rivers, so I returned there at night to look for more amphibians.
When I returned at night I saw a snake moving under a log and when I caught it I could not be more happy, it was one of the best looking snakes that live in this area: the Red-eyed Tree Snake! I walked further through the river to search on the river banks, but no more snakes were seen there, what did show up was a male Reticulated Glass Frog guarding the eggs, I saw this little bugger already at C.R.A.R.C. but that was in shitty weather and without eggs.
A bit later after 1000 photo's I heard the call of the Granular Glass Frog, one of the 2 glass frog species Brian and I could not find when we heard them calling. The problem here was the same as at C.R.A.R.C., those damn frogs are at least 6 meters high in a tree. 
It took me a while to sort of find out where the calls were coming from, I started climbing the tree and this is not very smart with lots of Bullet Ants everywhere... I was able to bend the branch a bit forward and made a long grabbing device from an other branch and I managed to get the branch low enough to look on top of the leaves and there he was!!! Thanks Brian for teaching me these great jungle tactics to find amphibians!
The other days we did the usual things during the day and at night I searched on a trail, but not much was found. The last night on the Osa peninsula we booked ourself a guided tour at one of the lodges at the La Tarde area, it was 70 $ for 2 adults.
When we arrived the guys from Dante's Lodge came to us and said that the guide had canceled his appointment because it was raining.....so I was very disappointed and asked the guy for a map of their trail system, at first he did not want me to go on the trails, but he felt guilty and I told him that I drove 40 minutes to reach this place.
So there we went, 70 $ back in my wallet, still raining, but these conditions looked good for what we wanted, we searched around a pond and saw many Tree Frogs straight away, few minutes later I spotted a Snouted Tree Frog, Cynthia found a Cat-eyed Snake on the trail and at the stream I found 2 glass frog species, 1 of them was the second species I could not find with Brian at C.R.A.R.C., the kids were almost as excited as I was, especially when the frogs jumped towards there headlights all the time landing on their faces.
When the kids got tired we went back to Los Brazos, along the way we stopped a couple of times because of the many very active Tree frogs.
Many thanks to the lazy guide!
Hotel La Boruca, close to San Jose and 1 day in Panama, august 10th & 11th
An other long drive again, but now we took the coastal road towards San Jose so the 360 km did not take as long as going over the mountain road. Early in the afternoon we arrived at La Boruca, a nice hotel with very comfy rooms pretty close to San Jose, but not in a busy area.
When I booked this place I was influenced by the photographs of some Glass Frogs on their website, so after a very good home made diner I put on my dirty evening outfit for the last time and walked to the little stream behind the hotel and within 2 minutes I found 2 Fleischmann's Glass Frogs.
At C.R.A.R.C. I had already seen this species, but that was only 1 in very rainy conditions, so the 15 glass frogs I found here gave me some opportunities to make new and better photo's. I was only outside for 2 hours and went to sleep because the next day we were going home, at least, that is what we thought.
We woke up very early because our flight to Miami would depart at 07:00 and we had to return the rental car. When we arrived at the airport we were surprised to see that the flight to Miami was canceled....so what to do next?
Within the hour we were booked on other flights that would bring us home and only gave us a couple of hours more travel time.
The new route was via Panama and we had to wait there for 9 hours before flying to the Netherlands.
When we arrived in Panama we decided to rent a car and make the best of this strange day, we drove around and found a nice river where local people were swimming, so we joined them and had 1 good day in Panama.
The rest of the journey home was taking longer then expected because we had somebody on board that had medical problems and she was taken off the airplane just at the time that we were supposed to leave.
The KLM flight was good, no more problems.
A family holiday to Costa Rica without being out looking for herps the whole day, it works as long as the wife is cooperative... I only used the evenings/nights to go out and herp and sometimes we found some species during the day when we did some real family stuff like jungle hikes and reaching beaches which were somewhere along a jungle trail.
There is only one big problem when visiting Costa Rica....it will be very hard to find a good destination for the summer of 2016.
Thanks to Eitan Grunwald for his advice on herping in Florida and thanks to Matthieu Berroneau for sharing his experiences in CR.
Also a big thank you to Brian Kubicki who helped me out with determine some of the species.
Amphibians  (Costa Rica)
 Caecilians
1.    Gymnophis multiplicata
Salamanders
2.    Bolitoglossa cerroensis
3.    Bolitoglossa colonnea
4.    Bolitoglossa pesrubra
Toads
5.    Incilius coccifer
6.    Incilius coniferus
7.    Incilius melanochlorus
8.    Incilius valliceps
9.    Rhaebo haematiticus
10.   Rhinella marina
Frogs
11.  Diasporus diastema
12.  Diasporus aff. hylaeformis
13.  Craugastor bransfordii
14.  Craugastor crassidigitus
15.  Craugastor fitzingeri
16.  Craugastor megacephalus
17.  Craugastor stejnegerianus
18.  Craugastor talamancae
19.  Pristimantis cerasinus
20.  Pristimantis cruentus
21.  Pristimantis ridens
22.  Leptodactylus bolivianus
23.  Leptodactylus melanonotus
24.  Leptodactylus savageii
25.  Lithobates vaillanti
26.  Lithobates warszewitschii
27.  Engystomops pustulosus
Tree Frogs
28.  Agalychnis callidryas
29.  Agalychnis lemur
30.  Agalychnis spurrelli (tadpoles)
31.  Cruziohyla calcarifer
32.  Dendropsophus ebraccatus
33.  Dendropsophus microcephalus
34.  Dendropsophus phlebodes
35.  Duellmanohyla rufioculis
36.  Hyloscirtus palmeri
37.  Hypsiboas rosenbergi
38.  Isthmohyla lancasteri
39.  Isthmohyla pseudopuma
40.  Scinax boulengeri
41.  Scinax elaeochrous
42.  Smilisca baudinii
43.  Smilisca phaeota
44.  Smilisca puma
45.  Smilisca sila
46.  Smilisca sordida
47.  Tlalocohyla loquax
Glass Frogs
48.  Cochranella granulosa
49.  Hyalinobatrachium fleischmanni
50.  Hyalinobatrachium valerioi
51.  Sachatamia albomaculata
52.  Sachatamia ilex
53.  Teratohyla pulverata
54.  Teratohyla spinosa
Dart Frogs
55.  Dendrobates auratus
56.  Oophaga granulifera
57.  Oophaga pumilio
58.  Phyllobates lugubris
59.  Phyllobates vittatus
Amphibians  (Everglades NP, Florida)
Toads & Frogs
60.  Anaxyrus terrestris
61.  Hyla cinerea
62.  Lithobates grylio
Reptiles  (Costa Rica)
Turtles
1.    Kinosternon leucostomum
2.    Trachemis venusta
3.    Rhinoclemmys funerea
Lizards
4.    Basiliscus basiliscus
5.    Basiliscus plumifrons
6.    Basiliscus vittatus
7.    Corytophanes cristatus
8.    Ctenosaura similis
9.    Iguana iguana
10.  Sceloporus malachiticus
11.  Sceloporus variabilis
12.  Anolis aquaticus
13.  Anolis capito
14.  Anolis cristatellus
15.  Anolis cupreus
16.  Anolis humilis
17.  Anolis lemurinus
18.  Anolis limifrons
19.  Anolis lionotus
20.  Anolis pentaprion
21.  Anolis polylepis
22.  Anolis woodi
23.  Coleonyx mitratus
24.  Gonatodes albogularis
25.  Hemidactylus frenatus
26.  Hemidactylus garnoti
27.  Lepidoblepharis xanthostigma
28.  Lepidodactylus lugubris
29.  Thecadactylus rapicauda
30.  Lepidophyma flavimaculatum
31.  Sphenomorphus cherriei
32.  Ameiva ameiva
33.  Ameiva festiva
34.  Ameiva quadrilineata
35.  Ameiva undulata
36.  Cnemidophorus deppii
37.  Ptychoglossus plicatus
38.  Diploglossus bilobates
39.  Mesaspis monticola
Snakes
40.  Boa Constrictor
41.  Coniophanus piceivittis
42.  Dendrophidion percarinatum
43.  Dipsas bicolor
44.  Enuliophis sclateri
45.  Geophis brachycephalus
46.  Imantodes cenchoa
47.  Imantodes gemnistratus
48.  Imantodes inornatus
49.  Leptodeira septentrionalis
--.  Leptodrymus pulcherrimus (DOR)
50.  Ninia celata
51.  Ninia sebae
52.  Oxybelis brevirostris
53.  Oxyrhopus petola
54.  Sibon annulatus
55.  Sibon anthracops
56.  Sibon longifrenis
57.  Sibon nebulatus
58.  Siphlophis compressus
59.  Trimorphodon quadruplex
60.  Atropoides mexicanus
61.  Bothriechis lateralis
62.  Bothriechis schlegelii
63.  Crotalus simus
64.  Porthidium ophryomegas
65.  Micrurus nigrocinctus
Crocodilians
66.  Caiman crocodilus
67.  Crocodylus acutus
Reptiles  (Everglades NP, Florida) 
Turtles
68.  Pseudemys peninsularis
Lizards
69.  Hemidactylus sp
Snakes
70. Nerodia fasciata
71.  Nerodia taxispilota
72.  Python molurus
73.  Cemephora coccinea
74.  Pantherophis guttatus
--.  Thamnophis sauritus (DOR)
Crocodilians
75.  Alligator mississippiensis
---
---