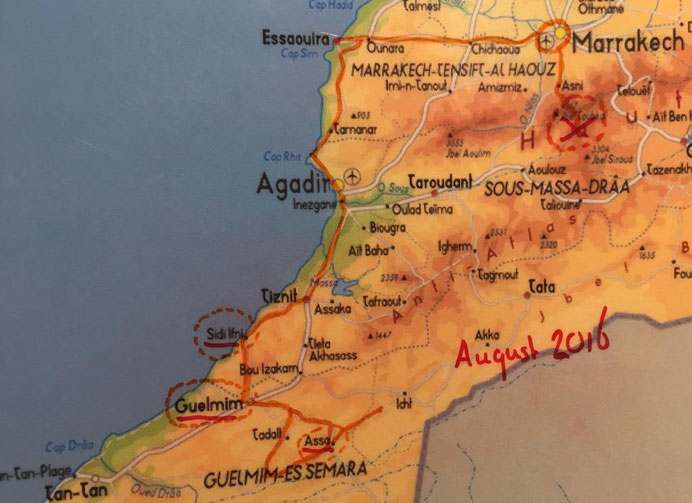 © All CONTENT & PHOTOGRAPHS G.J. VERSPUI 2016 ©
Unless stated otherwise.
For viewing the photos in a bigger size, just click on them
Haut Atlas, 10th - 13th of august
Morocco, ever since my first trip to this country I wanted to go there again, so there was no doubt when Matt Wilson asked me if I wanted to join him and Carl Corbidge in the summer.
We did have some troubles with getting in line on the dates, so I already arrived 2 days earlier and used that time to visit one of my favorite places from last trip: the High Atlas mountains.
I booked a room in the same hotel (Top Ourika) as last time and it was great again.
Up in the mountains I had 2 early morning searches and 2 late afternoon searches to find the Atlas Vipers, only the early mornings were successful. The first morning I found a male and the second morning 2 females, they looked better then the 3 Atlas Vipers I found in early May 2015.
In that area are many more species, but I did not manage to picture them all, the skinks were the hardest, I saw 2 Chalcides montanus escaping into a large bush and also 2 Skinks that were a lot longer and more slender.. After some information about this species from my good friend Wouter Beukema we came to the conclusion that it must have been Chalcides minutus, or Chalcides Pseudostriatus.
In the evenings I walked around the hotel next to the river and found several toads and gecko's.
Sidi Ifni, 13th - 16th of august
On the 13th I drove to Essaouira to pick up Carl and Matt, they arrived around 19:00, so while driving there I did some short stops and found some Mesalina simony and Mauremys leprosa.
We wanted to go straight to Sidi ifni where we would spend 3 nights, the distance was way too much and almost all was on minor roads.
Around 01:00 we arrived and after a short moment of road cruising we went to bed, only an almost dead Hemorrhois hippocrepis was found.
The next morning we had breakfast at a real holiday time and after it we went to a wadi, but didn't find anything.
When we started to check out the water cisterns in that area we found a Hemorrhois hippocrepis straight away and after that nothing else. To get into the cisterns we used a rope ladder that I made, climbing up and down is not always easy, but more about that later..
At a stop I noticed that one of my tires was very bad, the steal threads were hanging out already, I went to the ground and did 50 push ups for not checking the car better when I picked it up.
We wanted to change it, but we also found out that we could make a lesson out of it because Matt never changed a wheel on a car before, thats not a shame off course, I bet that lots of my herping buddies/girlfriends never changed a tire before. (if you read this and you are upset because you think you are a man and I still talk about girlfriends, grab a tissue)
The tire was changed in 5 minutes because Carl and I decided to make it a demo - lesson..
On the last night there we were already driving back to the hotel when Matt shouted: "Puff Adder", it was a nice one, around 50 cm.
Carl and Matt were very excited, I think this was their number one for this trip!
Assa, 16th - 18th of august
After taking some photos in daylight of the Puff Adder we started to drive south, around Guelmim it was already a lot warmer, but when we arrived in Assa it was above 40' Celsius.
This high temperature and the very hard and hot wind made us very thirsty, I almost forgot how the sight of a coca cola sign can almost make you crazy...the need for sugars was very high.
So every time we passed a shop we bought some cold drinks, this meaningless drinking of stuff I normally call poison had some side effects.. a certain man in the car who is very good at impersonating Donald Trump said he always like to practice his frog calls when he drinks that shit. We just called it burping at 130 decibel.
Next to the road towards Assa we saw some Cisterns and climbing down was not bad, 3 snake species and several lizard species were found inside.
I Assa we went to the only hotel in town: Hotel Nidaros, from the outside it looked ok, but what a shithole, inside it was even hotter than outside, toilets not flushing, no electricity and for some reason all the airco's in the hotel didn't work, but there was a wifi connection, which didn't work...
On the first night we had dinner in Assa before we drove to Aionet Lahna, while we were having dinner we talked to a local guy and he mentioned the weather, yes it was hot now, but according to him heat never killed a man, so it was ok to live in this heat. We totally agreed with him!
At Aionet Lahna we did some searches and also some road cruising. Not much was found except for a Ptyodactylus oudrii.
The next morning we searched around Assa and bought al the cold coca cola bottles we found on the way.
On the road between Assa and Ainet Lana we were stopped by a guy in a toyota land cruiser and he wanted to take our passports to make copies of them, but Carl and Matt made sure he did not take them, at that moment I was running 100 m next to the road to see if I could see some more cisterns.
In the afternoon we drove east and got into some crazy desert rain, the road was flooded within 10 minutes, but it was only a local hard shower.
That night we had dinner at the same place again, when the sun was almost gone we drove towards Aionet Lahna again, around 1 third I saw a long shape on the road, it was a Desert Monitor... I stepped on the brakes, we all jumped out of the car and started running towards the monitor, but the monitor was really fast. I was sprinting at full speed and could hardly keep up with it.
I went into a pipe and came out on the other side of the road, Carl and Matt went to the other side and chased it back into the pipe and I grabbed it on the other side.
It was my first Desert Monitor after at least 6 trips within its distribution, Israel, Oman, UAE and Morocco, but nothing was found except for loads of tracks.
So the evening started out great, in Aionet Lahna we were stopped by the police again and he still wanted to have copies of our passports.
20 minutes later we drove to a large wadi where I thought it looked good for Echis leucogaster, within 15 minutes I found a big Echis, it was around 57 cm, so even bigger than the Puff Adder.
On the way back to our hotel we stopped at a wadi where I saw some skink tracks in the sand in the afternoon, after  a while I saw fresh tracks again and the skink was there too, Chalcides boulengeri, an other new species for us.
.
Guelmim, 18th - 20th of august
After photographing the Echis leucogaster we took a dirt road towards Fask, it was around 50 km long and compared to spring 2015 the road looked a lot less smooth.
After 14 km we killed one of the tires and this is normally not a problem, but when the spare tire looks like the one we had and still 35 km to go on the dirt road...we had to pray to all gods...but we had someone who recently learned how to change a wheel/tire, lucky us.
So the next 35 km we drove with 20 km/h, very exhausting to sit behind the steering wheel, I was so focussed on the sharp stones on the road that even a large snake that was crossing the road was seen at the last moment and it was not found after we got out of the car...
In the car we were already making plans on who should go walking and who stayed with the car in case we would get an other flat tire now.
Almost 2 hours later we arrived at a normal road again!
Close to Fask I searched for a place with a lot of sand because my 2 British friends kept talking about how wet their underwear would be if they would see Cerastes cerastes.
We found a place that looked promising and decided to come back at dusk.
In Guelmim we had our tire changed and after that we took the road to the west and searched in some cisterns and at the river, here we saw a couple of Mauremys leprosa, I really like the green /blue eyes they have over here.
Before we headed for the sandy area we had some food from the best restaurant in town: Speed burger and they provided some wifi, which is always handy.
Just before it was dark we started the search at the sandy area, to find snakes you have to be lucky to walk into them or find a track, Matt found the first track and it was for sure from a Cerastes cerastes, I did my best to track down the snake, but the area surface was hard at some places, so the track was lost 2 times, but within 5 minutes we were standing next to a very nice hornless Cerastes cerastes, the pattern was not like the ones I saw before. 
After some photos I continued the search for tracks and found very big ones, they were at least 80-85 cm, not much later I did not see the tracks going anywhere so I searched inside the bush and a big fat one was laying there half dug into the sand.
This one was more like what I saw before and it had some nice horns, but I liked the first one more!
After some road cruising we all went to sleep.
Next morning we had a good breakfast and after it we took the road south of Guelmim and checked out many many cisterns, we found a lot of different editions and Matt and Carl loved all of them stupid concrete death traps.
While they were looking at building quality and other very important stuff for their new magazine called 'Cistern Monthly' I was climbing up and down the damn things and found several snakes.
The results were noticed by Matt and he wanted to try the rope ladder as well, getting in was not easy, but he managed.
After checking out the cistern and finding nothing he wanted to come up again, so me and Carl both secured ourselves to the other side of the rope ladder and enjoyed the 10 minutes of struggle and cramped up muscles, before we helped him a bit.. I think he still has some scars from it.. yes you really deserve a cold coca cola now!
That night we got some energy and wifi from speed burger again before we started the road cruising, only a dead Bitis arietans and some Tarentola chazaliae were found on the road.
The next morning we had to go to the airport already so Matt and Carl could go home again, but first photographing the snakes we found in the cisterns the day before, we could not photograph them then because the ground was too hot.
The route to the airport was horrible, too long, but we were in time and even had some spare time to eat something from the grill in a town close to Essaouira. For me it was an other 200 km to Marrakech and my plane would leave the next day, so I slept in a Riad (Riad Losra), a very old family house in the old parts of Marrakech.
The next morning I went home.
---
Yes it was a bit hot, but we were very pleased with what we found, but it is still Morocco and you need some work to get results.
The team was great, We had a lot of fun, I wonder how the new magazine will do, 'Cistern Monthly' will tell you all there is to know about the latest, retro and ancient cisterns you can find in Morocco.
I heard from a reliable source that the first edition has a link to a video where 'Cistern Monthly's' own Matt Wilson is climbing out of a very fine cistern he just entered to save some reptiles. (make sure you have plenty of time, it took a while before he was out.
The lucky gays were always highly motivated and this all made it a great trip!
Looking forward to herping with you again guys! Lets see who wins the burping contest next time.
The things I won't be missing when I am home: Bad Drivers & Nosy cops.
Thanks to Wouter Beukema, Gabri Martinez for some information during and before the trip. Gabri, too bad you could not make it this time, maybe an other time!
Next trip to Morocco is already booked, 1 week to the North in wintertime to look for amphibians!
---
1.   Discoglossus scovazzi 
2.   Bufotes boulengeri
3.   Sclerophrys mauritanica
4.   Hyla meridionalis
5.   Pelophylax saharicus
6.   Mauremys leprosa
7.   Quedenfeldtia trachyblepharus
8.   Tarentola mauritanica
9.   Tarentola boehmei
10. Tarentola chazaliae
11.  Ptyodactylus oudrii
12.  Stenodactylus mauritanicus
13.  Tropiocolotes algericus
14.  Saurodactylus brosseti
15.  Agama impalearis
16.  Trapelus boehmei
17.  Uromastyx nigriventris
18.  Varanus griseus
19.  Timon tangitanus
20. Atlantolacerta andreanskyi
21.  Podarcis vaucheri
22.  Acanthodactylus pardalis
23.  Acanthodactylus boskianus
24.  Chalcides ocellatus
25.  Chalcides montanus
26.  Chalcides polylepis
27.  Chalcides boulengeri
28.  Mesalina simonii
29.  Mesalina guttulata
30. Psammodromus algirus
31.  Macroprotodon brevis
32.  Hemorrhois hippocrepis
33.  Lytorhynchus diadema
34.  Spalerosophis dolichospilus 
35.  Rhagerhis moilensis
36.  Psammophis schokari
37.  Vipera monticola
38.  Cerastes cerastes 
39.  Echis leucogaster
40.  Bitis arietans
---
---